"Each of you is to take up a stone on his shoulder... to serve as a sign among you. In the future, when your children ask you, "What do these stones mean?" tell them...that all the peoples of the earth may know the hand of the LORD, that it is mighty, that you may fear the LORD your God forever."
VKids is our children's ministry (Babies-5th Grade). In VKids we seek to teach kids what God has done by pointing to and teaching the Bible so that they may know Him and know what He has done.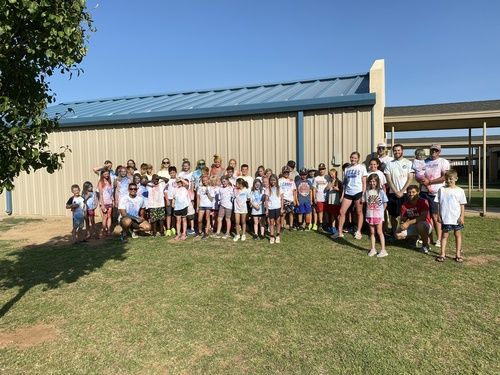 You can find the entrance to VKids through the playground gates. Upon arrival, use the check-in kiosk to check-in kids and receive security stickers to use at drop off & pick up. Kids Kinder-5th Grade can choose between the 9:30am & 11:00am service, while PreK and under can attend both.
We seek to provide a safe and secure environment by requiring all volunteers to complete background checks, Ministry Safe Training and more. We also have security officers, security cameras, and a secure entrance.
We update our VKids Parent Connect Facebook all throughout the week. You can find our Bible Study content, pictures from events, program and event updates, behind the scenes planning and more! Like our page to stay in the know:
VKids Parent Connect Facebook
Sunday Morning
Babies-5th Grade
9:30 am & 11:00 am
Teaching the Bible to kids is primary. We use the Bible Studies for Life: Kids Curriculum. There is an app for that curriculum that will keep parents and kids in the know about the Bible stories. We also publish each week's Bible story on our
VKids Parent Connect Facebook Page
.
Wednesday Nights
Babies-5th Grade
6:00 pm - 8:00 pm
We love spending time discipling kids. On Wednesdays, we do just that! Every Wednesday night, we learn a Bible story, focus on missions, and play games that emphasize the biblical truth and build friendships.